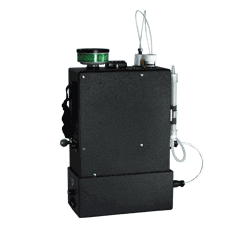 THIS PRODUCT IS NO LONGER OFFERED. KIN-TEK WILL BE OFFERING A REPLACEMENT. PLEASE CHECK BACK!
The Span Chek™ is a portable instrument designed for field calibration of toxic gas analyzers, area monitors, and detectors.  The unit may be used with passive sensors as well as instruments that have a built-in sample pump.  Interchangeable permeation tubes are used to provide a constant output of the toxic gas.  This constant output is mixed with a much larger controlled flow of ambient air to generate an accurate concentration of the standard test mixture.
The instrument is designed to generate concentrations from below 1 ppm to over 100 ppm.  Concentration is varied by changing the dilution air flow rate, the permeation tube temperature, or the number of permeation tubes used.  It can be adapted to produce mixture of a variety of compounds by installing the appropriate tubes of permeation tubes.
Span Chek™ Portable Calibrator Brochure
Span Chek™ Portable Calibrator Specifications
---
Span Chek™ Portable Calibrator provides:
Calibrates Environmental Monitors
Internal compressor – provides dilution air
Rechargeable, long life battery – for over 8 hours continuous operation
Intake filter – cleans ambient air
Exhaust filter – scrubs vent exhaust
The Span Chek™ is self-contained and portable.  Dilution air is provided by a small internal compressor.  Ambient air is drawn into the unit and purified by passing it though a chemical cartridge type filter.  The permeation tube oven temperature is controlled by PID controller at 35 to 50°C.  Power is provided by a rechargeable, lead acid battery.
The output of the Span Chek™ is connected directly to an analyzer or to an appropriate chamber placed over the sensing head of a passive detector.  In this case, the calibration mixture flows into the chamber and surrounds the sensor head.  When calibration is complete, the chamber is removed and the sensor returns to normal service.  The calibration mixture simulates the actual sample in all respects including relative humidity and oxygen content.