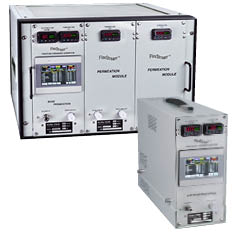 The KIN-TEK Analytical FlexStream™ System is ideally suited for creating trace concentration – ppm, ppb, and pptr – mixtures. The FlexStream™ uses KIN-TEK Trace Source™ disposable, refillable and diffusion permeation tubes for over 550 Supported Chemicals. Permeation tube oven with wide temperature range controlled to 0.01 °C.
The FlexStream™  Gas Standard Generator System is composed of one or more modules, depending on application requirements. Click here for more information about the FlexStream™  Modules.
---
The FlexStream™ Gas Standard Generator System provides:
High-accuracy primary dilution mass flow rate
Front panel color touch-screen human interface
Automation of all calculations; key in the target concentration and the FlexStream™ sets the flow rate
Single-oven module can create mixtures with up to 8 components
External computer monitoring and control
Expandable
The FlexStream™ can also be locally or remotely monitored and controlled by a PC or process computer using ModBus® connectivity. This connectivity allows reading and writing of oven temperature, temperature alarm limits, mode of the instrument (standby, zero, and span), permeation tube properties (component name, emission rate, and certification temperature), flow rate(s), target concentration unit and value, and so forth.
KIN-TEK supplies a Windows® application named FlexLink™ with each FlexBase module. This program controls and monitors the FlexSteam™ by an RS-232 serial or Ethernet link between the PC and the FlexStream™. Using FlexLink™, the FlexStream™ can also be controlled and monitored over the internet (or company intranet). The FlexLink™ executable software is supplied as a standard item with each FlexStream™. Although FlexLink™ is written in National Instruments LabView®, LabView® is not required to be installed on the host PC. Scroll up and click the "FlexLink™ Software" tab to see more features of the software.
KIN-TEK also provides Modbus driver software free-of-charge. This driver is a LabView® VI program for interfacing the FlexStream™ to a LabView® program and is located on the FlexLink™ executable software CD. If you would like to review a copy of the driver, send your request to KIN-TEK's Software Development department at the "Contact us" link in the sidebar above.
FlexStream™ features:
Complete, integrated, ready-to-use turnkey system
Automated operation with direct readout of concentration in units of ppm, ppb or ppt
Modes of Operation: standby, zero, span and purge
Touch screen interface for local setup and front panel control
Modbus connectivity for integration with other computer systems for local or remote control
Designed for expandability
Flow path designed for maximum flexibility with minimum error
Flow path suitable for reactive gases – mixture contacts only glass, Teflon® and stainless steel (other materials available)
Accepts disposable permeation tubes, diffusion tubes, ultra-high rate liquid filled tubes, wafer tubes, and prefilled gas fed permeation tubes
Accepts up to 8 disposable tubes per oven with maximum 6 inch length x 1/4 inch diameter (KIN-TEK HRT, SRT and EL tubes)
Accepts one of KIN-TEK refillable LFH, and 57 Series tubes per oven
FlexStream Product Brochure (PDF)
Compare FlexStream™ to other KIN-TEK Gas Standards Generators (PDF)
Compare KIN-TEK FlexStream™ to other manufacturers (PDF)