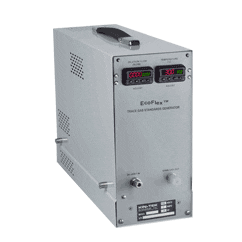 The EcoFlex™ Permeation System is designed for creating trace concentration gas mixtures. Mixtures are produced by diluting the minuscule flow of vapor emitted by Trace Source™ permeation (or diffusion) tubes with a much larger flow of inert matrix gas, typically nitrogen or zero air. Mixtures contact only suitably inert materials, Teflon®, coated stainless steel, or glass.
The EcoFlex™ manual system is built on the same readily transportable platform as the microprocessor controlled FlexStream™ Base Module. The EcoFlex™, however, is a simple, stand-alone, non-expandable, single oven permeation system.
The EcoFlex™ holds the Trace Source™ Permeation Tube(s) at a constant temperature and introduces a small controlled flow of dilution gas over the tube. Pure component compound vapor emitted from the permeation tube(s) mixes with this small flow to form a 'base' concentration gas mixture. This base mixture then joins a larger main dilution flow to form the final mixture. The mixture concentration is set by adjusting that main dilution flow.
Permeation tubes of various emission rates are available for over 550 compounds. By choosing a tube suited to the application, mixtures having concentration from low ppb to over 1000 ppm can be generated and the concentration can then be adjusted over a 20:1 range. A single permeation tube, for instance, might be used for concentrations from 1 ppm in 250 cc/min or down to 50 ppb in 5 slpm. Using the mixture immediately after preparation eliminates storage loss.
EcoFlex™ Permeation System Brochure
---
  The EcoFlex™ Gas Standard Generator System provides:
Modes of Operation: span only
Flow path suitable for reactive gases – mixture contacts only glass, Teflon® and stainless steel (other materials available)
Accepts disposable permeation tubes, diffusion tubes, wafer tubes, and prefilled gas fed permeation tubes
Single-oven module can create mixtures with up to 8 components: Accepts up to 8 disposable tubes with maximum 6 inch length x 1/4 inch diameter (KIN-TEK HRT, SRT and EL tubes), or
Accepts one of KIN-TEK refillable LFH, or Prefilled 57S
High mass oven with electronic PID control
Temperature Control Range: 5 °C above ambient from 30 to 150 °C (heat only)
Temperature Set Point Resolution: 0.1 °C across control range
Temperature Display Resolution: 0.1 °C
Standard Flow Range: 0.25-5.0 standard liters per minute
Flow Control over Calibrated Range: ≤ ±1.5 % of reading
Output Concentration Range: below 1 ppb to over 1000 ppm depending on permeation tube emission rate and dilution flow rate
Power Requirements: Standard: 115 VAC, 2 A
Power Requirements: Optional (specified at time of purchase): 230 VAC, 1 A
Dimensions: 6 inch Width x 13.5 inch Height x 20 inch Depth
Weight: Approximately 27 lbs, shipping 44 lbs