HOW PERMEATION TUBES WORK!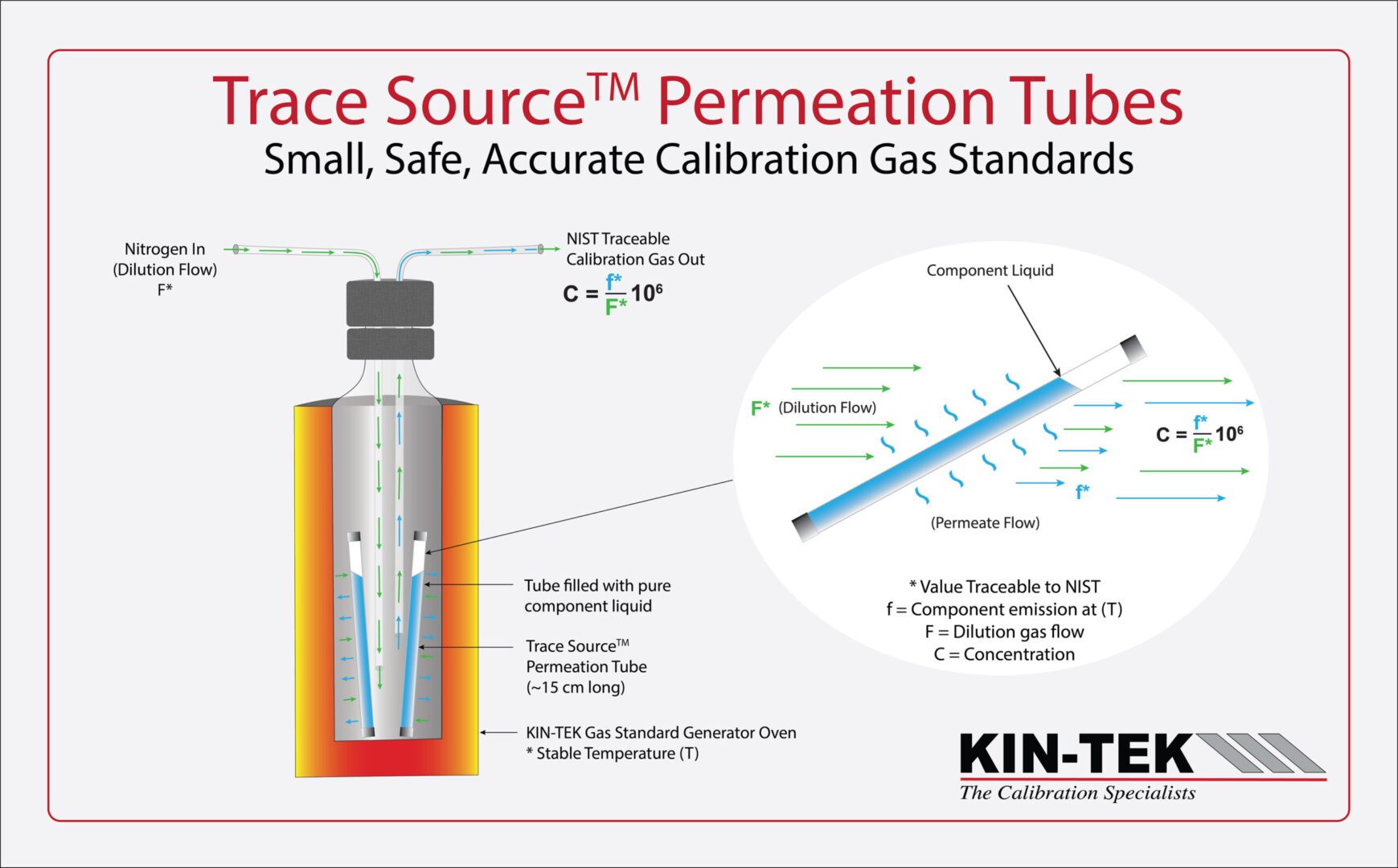 KIN-TEK Trace Source™permeation tubes use a permeable membrane to dispense a small flow of chemical vapor. The most common type is a small tubular device that has liquid analyte sealed inside the tube. A very small but stable flow (nanograms-per-minute) of analyte vapor is emitted through the tube wall at constant temperature. The emission rate of the tube is determined by measuring the rate of weight loss. These tubes are used in KIN-TEK Gas Standard Generators to create dynamic calibration gas standards with concentrations traceable to NIST through physical standards. Immersing the tube in a carefully controlled flow of inert dilution gas forms a trace concentration mixture of the analyte.

Trace Source™ permeation tubes: Accurate, Safe, and Easy-to-use
While both Trace Source™ Permeation Tubes and gas cylinders are certified NIST traceable calibration gas standards, Trace Source™ Permeation Tubes provide:
Ease of storage and handling of multiple compounds.
Pure standard without addition of impurities or loss due to absorption.
Multiple gases and a multipoint calibration curve generated easily using a Trace Source™ Permeation Tube in a KIN-TEK Gas Standard Generator.
Over 550 NIST-traceable chemical compounds available, including toxic air pollutants, VOCs, acid gases, amines, sulfurs and hydrides.
---
Click For More … How Permeation Tubes Work
Click For More … Why Use Permeation Tubes
Click For More … Trace Source™ Permeation Tubes