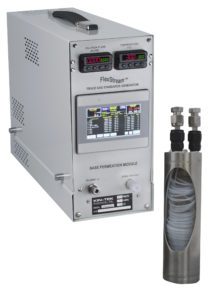 The Trace SourceTM Liquid Filled (LFH) Permeation Tube is utilized in KIN-TEK Gas Calibration Systems to generate moderate to high concentration mixtures of low vapor liquids and/or solids such as Water, Benzene, various Sulfur compounds, and Formaldehyde. 
KIN-TEK provides several types of Trace SourceTM  permeation tubes for over 550 chemical compounds including toxic air pollutants, VOCs, acid gases, amines, sulfurs and hydrides.
KIN-TEK delivers trace gas calibration product solutions and services worldwide to solve customer problems in the laboratory, field (portable) and process industries!
Click For More … FlexStream Gas Generator System
Click For More … Trace SourceTM  Liquid Filled (LFH) Permeation Tub
Click For More … Chemical Compound List
---