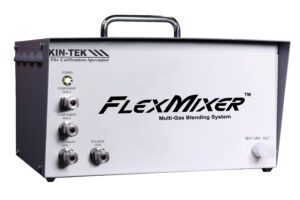 KIN-TEK has been a leader in supplying gas calibration equipment for over 50 years. Expanding on many years of knowledge and experience, KIN-TEK introduces the FlexMixer™   Multi-Gas Blending/Diluting System that mixes or dilutes up to 4 separate gas feeds (or cylinder sources) to one Span Gas output. Controlled by user friendly software installed on the user PC, the FlexMixer™ is an economical, lightweight, functional solution for a broad range of applications. The FlexMixer™ generates gas standards for multipoint gas analyzer calibration, fills test volumes for research purposes, or dilutes select gas sources. The FlexMixer™ can be customized to accommodate different types of gas input sources and/or premixed cylinders. Users easily create percent level (%) concentrations or trace concentration gas mixtures for storage or calibration.
Click here for more information about the FlexMixer™
Click here for FlexMixer™ Preloaded Gas Configurations (pdf)
Click here for FlexMixer™ Preloaded Gas Configurations by Category (pdf)
---
  The FlexMixer™ Multi-Gas Blending System provides:
Automated Gas Blending of Balance Gas and up to 3 Component Gases.
100+ preloaded gas configurations available, 20 user defined gas blends.
Profile and Manual control modes.
Create, control, and measure custom gas blends.
Perform multi-point calibration of analyzers, sensors, detectors.
Dilute existing cylinder sources
User friendly software for a simplified solution with integrated safety shut off.
Portability between labs or facilities with small footprint.